THE MACHINE 2016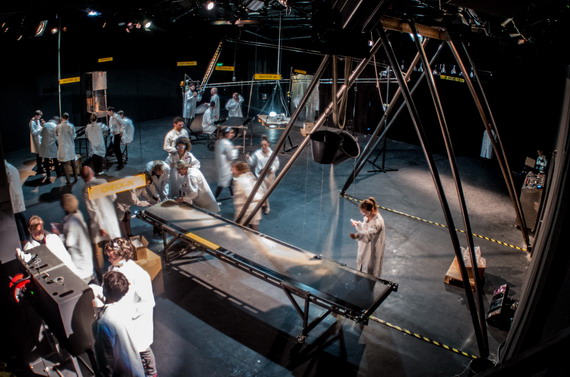 The Machine is the product of the idea that audience should, by it's active participation, define the show. Consequently, much of the content of the show viewers produce by themselves guided by the preprogrammed instructions they receive on the ticket machines incorporated on the stage. Audience activities are then mixed with a constant presence and of the professional performers or are manipulated and controlled by the public or act independently.

On the stage, at which the audience moves freely, there is a total of 11 large machines and installations that simulate the working process. Conveyor belts, cranes, conveyors, remotely controlled self propelled tea trolley... A special role has a control desk from which the audience can control light, sound and performers themselves, and also to monitor the entire process through the cctv system.

The Machine is trying to encourage audience responsibility toward the experience it will receive. It insists on the satisfaction that comes from the manual implementation of simple and repetitive tasks or seeing how other people work, from the experience of communion and solidarity and above all the collective ownership of the show, in opposition to the strictly individualistic artistic practices.

In the center of the London art market, the show is also trying to break the direct link between buying tickets and the right to enjoy or be amused.



general concept
karkatag collective/collectif and then
technical solution
aleksandar popovic/ana dimitrijevic/marko dimitrijevic
crew
aleksandar popovic/ana dimitrijevic/marko dimitrijevic/
francesca hyde/lucie n'duhirahe/natalie reckert/
claire terrien/william drew/tassos stevens/liam quinn/
beatrice galloway/clare fitzsimons/zoe munn
photo
marko dimitrijevic/milica mitrovic
production
karkatag collective/collectif and then/
barbican center/the oxford samuel beckett theatre trust award